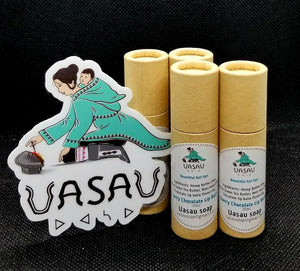 Uasau Soap
Beautiful full lips (15 / 30ml)
Sale price Price $10.00 Regular price
Made simple and sweet for everyone!!
We made our lip balm to battle the skin-piercing Canadian northern winds.
Uasau's Eco friendly packaging is filled with their choice of moisturizing and hydrating rich butters.
Ingredients: Hemp seed butter, Shea butter, Green tea butter, Bees wax & Cherry Chocolate flavouring.  
* we even find that our balm covers most lipsticks beautifully.